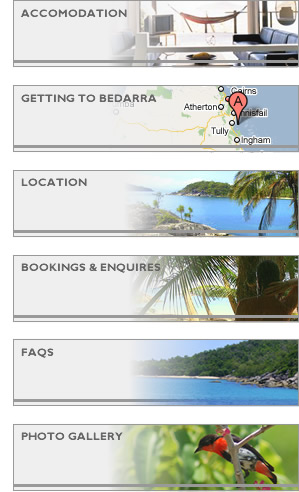 Welcome to Bedarra Beach Villa
Bedarra Island is the closest thing to tropical paradise in Australia and Bedarra Beach Villa & Studio are one of the most beautiful private places to stay in Australia's famed Great Barrier Reef. This is the signature property in the Contemporary Hotels collection.
Both the Villa and the Studio are positioned near the waters edge on a private two acre estate which wraps around a palmframed whitesand beach. Prominent artists, photographers and writers consider Doorila Cove to be the most beautiful beach on the island. Here you can swim or snorkel for hours in the warm clear turquoise waters of the coral sea.
The functional design of the Villa is languidly relaxed, yet comfortably modernist with interiors by renowned interior architect Ian Moore. The Villa has two queensized bedrooms and an openplan lounge/dining space which expands out to a large deck. All enjoy stunning views of the beautiful coral sea and the distant islands, extending to the oceans of the Great Barrier Reef, South Pacific and beyond.
The Studio is a separate structure annexed by a huge bamboo fence, ensuring privacy from the Villa (the properties can be booked individually or together). Originally built by prominent artist Noel Wood in the early 20th century, the Studio was his residence for more than 50 years. Since renovated by Ian Moore, it maintains many original features including the gin and cognac bottle feature wall, a stone fireplace, bamboo paneling and a collection of original bamboo furniture items handmade by Mr Wood himself. A kingsized bedroom with an ensuite lies in its own pavilion, separate from the large openplan living/dining area.
There are only a small number of private homes on East Bedarra Island and there is no public access so you will never see any daytrippers. The property and its surrounds have been documented in many books and magazines, including Wallpaper, Vogue Living and Belle. The Villa also featured on Channel Seven's travel show The Great Outdoors.
Travelling to Bedarra Island will be relished by those who love a sense of adventure. This is a getaway in every sense and once there you'll feel as though in another world where you can unwind in seclusion, but not in isolation. Our caretakers will wait on the beach for your arrival by boat to help you land literally and figuratively on your island in the sun. Truly Paradise Found.